A Short History of Swarb
<![if !vml]>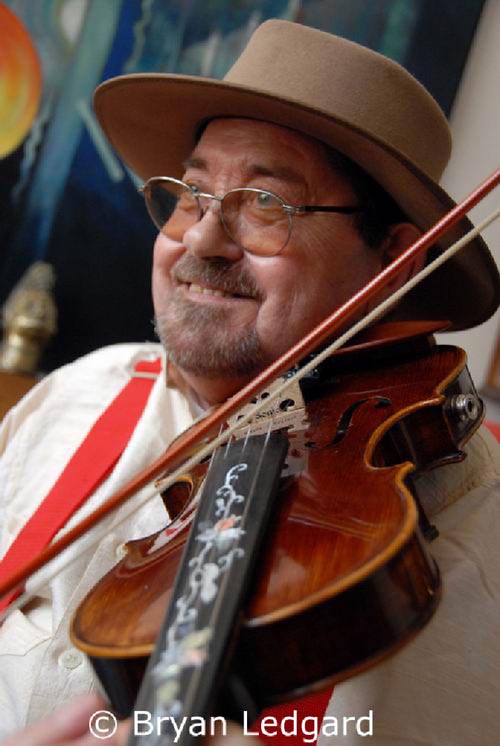 <![endif]>Dave Swarbrick was born in London in April 1941 and moved to Yorkshire when only three months old. At the age of six he learnt the rudiments of the fiddle from the local fiddler, Mr. Bootham. When he was eight years old the family moved to Birmingham. Dave left school there and at the age of fifteen became apprenticed to I.C.I. as a letterpress printer.
During his indentured years Dave toured and recorded extensively. Amongst the huge back catalogue from that time are three Radio Ballads with EWAN MacCOLL, PEGGY SEEGER and CHARLES PARKER. Dave's lifelong passion for folk music was born in those busy years. His printing apprenticeship was mainly spent "on the road" or in the Manager's office.
Amongst the many performers Dave met, worked and recorded with during those years were BERYL and ROGER MARRIOTT, A .L. LLOYD, ALF EDWARDS and, of course, IAN CAMPBELL.
Dave joined the IAN CAMPBELL FOLK GROUP in the early 60's and left printing shortly afterwards. In 1966 he teamed up with MARTIN CARTHY and this remarkable pairing played an important part in the tremendous shake up given to British folk music in the middle to late 60's. When they parted in 1969 Dave joined FAIRPORT CONVENTION and his contribution to folk and folk/rock music is legendary and well documented.
In 1984 Dave left Fairport and, along with KEVIN DEMPSEY, CHRIS LESLIE and MARTIN JENKINS, formed WHIPPERSNAPPER, a group renowned for its drive and acoustic prowess. In 1989 Dave decided to leave to concentrate on solo work and revive his partnership with Martin Carthy.
In the early 90s Dave and Martin were members of the folk "supergroup" BAND OF HOPE along with such luminaries as ROY BAILEY, STEAFAN HANNIGAN, JOHN KIRKPATRICK and CHRIS PARKINSON. The band toured twice and produced one CD, "RHYTHM and REDS".
In 1993 Dave moved to Australia where he met and began working with ALISTAIR HULETT. Their partnership produced three highly acclaimed CDs. Dave returned to England in 1996. He and Kevin Dempsey started making music together shortly afterwards. While touring Europe with Kevin in 1999, Dave became seriously ill and for the next six years battled against emphysema. Famously killed off by the Daily Telegraph in 1999, Swarb continues to confound the press and the medical profession. His double lung transplant operation in October 2004 has meant a return to form and a renewed zest to be out there playing music again. Since then he has travelled Britain, Europe and Australia playing with his band, Swarb's Lazarus, and has been re-united with both Martin Carthy and Alistair Hulett for outstanding duo tours. He has recently returned to solo performances for the first time in a decade with a show that is another memorable and triumphant chapter in his long career.
Swarb received the highest award from the English Folk Dance and Song Society, the Gold Badge, in 2002 and the Gold Badge of Merit from the British Academy of Composers and Songwriters, again their highest accolade, in 2003. In 2004 Swarb received a Lifetime Achievement Award in the annual BBC Radio 2 Folk Awards and in 2006 Fairport Convention received an award for "Liege And Lief", the most influential album of all time, as voted for by the listeners. In 2007 Swarb received another award at the BBC Radio 2 Folk Awards, this time for Best Duo (with Martin Carthy) as well as being nominated in the best instrumentalist category. In 2008 he won the Hancock Award for Musician of the Year in which over 3000 people took part, claiming over 40% of the vote.
In 2010 Swarb released 'raison d'ętre', his first solo album for nearly 20 years. Backed by a startling array of guest musicians, including Beryl Marriott, Martin Carthy, John Kirkpatrick, Kev Dempsey and a Canadian reggae outfit (The Jason Wilson Band), Swarb produced one of the greatest and most innovative albums of his long career. Reviewed in over 20 publications, it received a four star award in Mojo and was described as "truly stunning" by Living Tradition. FROOTS said, " His fiddle flits and swoops like a swallow in full flight" whilst R2(Rock'n'Reel) praised his "masterclasses in bowing". EFDSS Magazine described it as "the work of a fine fiddler who simply refuses to liedown and rest on his not inconsiderable laurels." A truly staggering achievement for a man in his seventh decade.
Swarb lives in Coventry with his artist wife Jill Banks and Ruby the dog. Shares in the letterpress industry continue to soar!!