Chaucers' Reviews, Sounds
& Mail Order
What The Press Say
<![if !supportEmptyParas]> <![endif]>
"Riotous fun" - The Independent

"Ceilidh with exuberant Celtic jiggery pokery from the infectious polka lovin' Flying Chaucers" - The Guardian

"South London's Celtic mix innovators who fuse a wide selection of European folk styles" - Time Out

"Global beat ceilidh" - The Times Metro

"Rapidly gaining notoriety. High energy dancing" - Irish World
<![if !supportEmptyParas]> <![endif]>
---
Mail Order
<![if !vml]>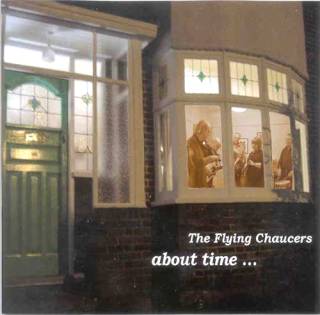 <![endif]>
"about time…" (Waterline Music – Splash11)
<![if !vml]>

<![endif]> Click on picture for sound sample 1
Click on picture for sound sample 2 <![if !vml]>

<![endif]>
<![if !supportEmptyParas]> <![endif]>
Another brand new Euro-Celtic hit from the inimitable Flying Chaucers. Featuring 12 tracks (….or could it be more???) of superb music from England, Ireland, Scotland, France and the USA. Some self-written numbers appear again with the Slipway and Rufford Park. There are traditional favourites such as the Father Kelly's set and contemporary tunes including Yvettes. Other tracks are Lucy's Polkas, The Mist Covered Mountain/Morrison's Jig, The Steamboat/The Curly Headed Ploughboy, Blind Mary/The Bannockburn Air, Martin Wynne's/The Maids of Castlebar, The Essex Breton Tune/Two French Branles, La Russe/The Balquidder Lasses/Scotland the Brave, The Texas and Tennessee Waltzes, Garret Barry's/Out on the Ocean, Cuckold Come Out of the Amry/French Polka. All played on an intricate array of instruments with a touch of occasional brass from our friends.
<![if !supportEmptyParas]> <![endif]>
CD price £10.50 inc. P & P.
Available from Waterline Music 020 8690 1291
REVIEW FROM "FOLK ON TAP" MAGAZINE – JULY 2005
The Flying Chaucers
'About Time'
<![if !supportEmptyParas]> <![endif]>
Active in the South London area for a long time, this is the Flying Chaucers' second album in seven years, so the title is certainly appropriate. Their reputation is based on lively and robust playing at ceilidhs, parties and pubs and it is easy to see why an evening in their company would be well spent and why The Independent described them as "riotous fun". This all-instrumental collection ranges through polkas, hornpipes, reels and waltzes as well as gleaning influences from most of the Celtic areas of Europe. A wide range of instrumentation, including some brass accompaniments, ensures that the playing is never stale and there are some good interpretations of familiar tunes such as 'Blind Mary/The Bannockburn Air' and 'The Maids of Castlebar'. One of the highlights is 'Yvette's Tune' and it's worth leaving the CD in the player as 'The Slipway/Rufford Park' brings the album to a rousing conclusion. Worth seeking out.
"Common Currency" (Waterline Music - Splash7)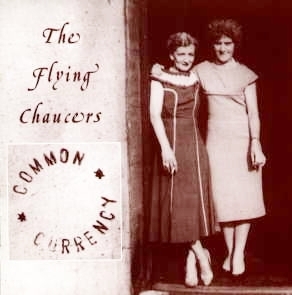 "A wonderful celtic mix"

-
Time Out

This Chaucers' CD is a classic of the Euro-Celtic style. The album contains a rich mixture of Irish, English, French, Italian and Eastern European selections as well as self written numbers like the raunchy "The Trip To The Dacre" in celebration of the band's local in South East London. Other tracks on the album are Macedonia / Chanson Du Cidre / Blue Tears / Dick's Maggot / Parson's Farewell / The Patch of Nettles / The First of May / McMahon's Reels / The Blackbird / Castle Kelly / Avant Deux / La Tarrantella / Noel nouvelet , Promptement Levez-Vous / Between The Bars / Moscow Nights and an unusual instrumental version of the Jagger/Richard composition Paint It Black.


CD price £10.50 inc. P & P.
Available from Waterline Music 020 8690 1291
---
<![if !supportEmptyParas]> <![endif]>
<![if !supportEmptyParas]> <![endif]>