What's On 2019
Saturday 2nd February
Kevin Dempsey & Joe Broughton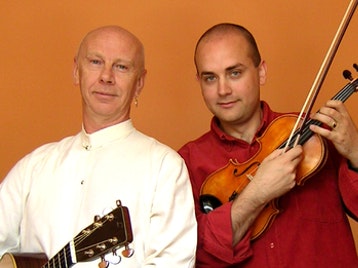 These two virtuosi of guitar and fiddle like to do their own thing occasionally, when they're not earning their crusts in big bands, jazz-rock, pop and soul gigs and the likes of Whippersnapper and the Albion Band. Joe has been playing since he was in the pram and has a PhD in circus skills and mad banter. Kevin has been around a bit longer and has played a few more notes. Musically they're tighter than two coats of paint. They have recorded four albums and toured extensively in over 20 countries round the world. Combining emotive songs, unrivalled instrumental capability and a spectacular high energy show, they never fail to create a spellbinding atmosphere.
The list of musicians they have played with is impressive...
Whippersnapper, Mary Black, Joss Stone, Dando Shaft, The Urban Folk Quartet, Fairport Convention, The Albion Band, Dave Swarbrick, Percy Sledge, Bellowhead....
but it can't prepare you for this unique partnership. To pigeon hole their style of music would be to do them a disservice. They draw on Folk music from all corners of the world but their experience in Jazz, Soul, Classical, Pop and Rock music takes the result into original and uncharted territory.
What you'll notice at their concerts is not only the originality of what this acoustic duo plays, but also the simple fact that they do it so well. Kevin has a fantastic voice and is widely regarded as one of Europe's greatest acoustic guitar players, whilst Joe is simply unmatched in the world of fiddle pyrotechnics. To top it all, the Dempsey/Broughton show is playful and entertaining; you almost have to pinch yourself and remember to take it all in as they swoop from beautiful song to mind blowing tune via a stream of hilarious banter. Two hours with Kevin Dempsey and Joe Broughton can seem like 10 minutes.
This is an evening you won't want to miss.
Call 01969 663808 for tickets - £13 in advance £15 on the door
All Profits to Yorkshire Air Ambulance

Saturday 14th September
IOTA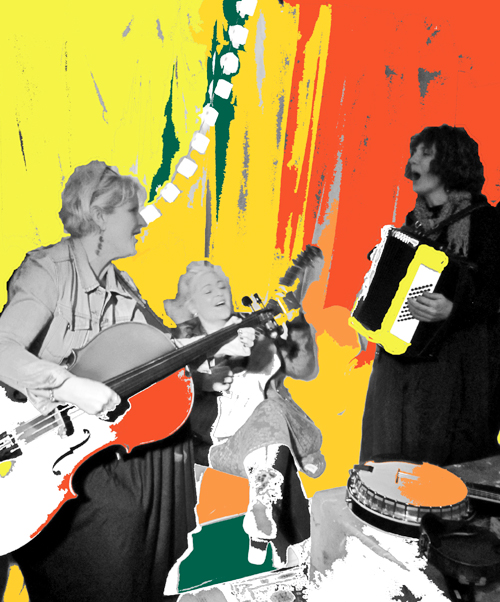 IOTA features Sally Barker, Anna Ryder & Marion Fleetwood ​. All three write, sing and sway in perfect harmony and each is a seasoned performer of the UK Folk/Rock scene.
Sally Barker​ (vocal, guitar & percussion) sang to millions as Tom Jones' finalist on 'The Voice UK', but the singer-songwriter has entertained for years as a member of revered fem-folk group The Poozies and of the re-formed Fotheringay and as a solo artist supporting Bob Dylan, Robert Plant and Richard Thompson. Sally brings any song gloriously to life.
Anna Ryder​ (vocal, keys, accordion, guitar, dumbek, banjo & french horn) is a musical dynamo; an original and inventive singer-songwriter with a musical style that, although based in folk, spans an array of genres. Amongst others Anna has worked with Fairport Convention, Eddi Reader, Julianne Regan (All About Eve).
With a voice which has been described as 'mesmerising' and 'siren-esque', the blazingly dynamic Marion Fleetwood​ (vocal, violin, viola, cello, guitars & percussion) is a highly respected multi-instrumentalist and singer-songwriter. Best known as a member of TRADarrr and as a former member of ColvinQuarmby and The Jigantics, she is also a busy session musician.
IOTA evoke the spirit and musical energy of the Roches whilst channelling the Supremes, Destiny's Child and Charlie's Angels!
"I'm so excited that three of my favourite singer/songwriters and performers have formed this great new trio. They are fab!! And I love all of em" Dave Pegg of Fairport Convention
Call 01969 663808 for tickets - £13 in advance £15 on the door
All Profits to MacMillan Nurses
What Was On
2018

Saturday November 10th – Gerry Colvin Band -
£522.16p raised
What Was On
2017
Saturday March 4th – Broom Bezzums -
£606.60p raised
Saturday May 20th – Luke Jackson Trio - £333.50p raised
Monday October 9th - Richard Thompson - £4684.72p raised